Tomato stew is one of the most popular delicacies in West Africa, particularly in Nigeria. Tomato Stew is a staple in most Nigerian homes because it is a sauce used for eating many meals in Nigeria such as yam, white rice, okro, beans, etc. Most Nigerian homes always make sure to never run out of tomato stew in the house. This is one of the reasons why lots of people want to know how to cook Nigerian tomato stew.
There are several kinds of stew. There's tomato stew, palm oil stew, stew for amala and ewedu, etc… but I'll focus on tomato stew for white eating rice and yam in this article.
INGREDIENTS FOR COOKING TOMATO STEW.
You'll need the following items when preparing the Nigerian tomato stew(The ingredients in this article may be enough for 2 or 3 persons)
4kg fresh tomatoes(I prefer the big red plum tomatoes, popularly known as tomato Jos in Nigeria).
 400g Tomato paste (optional)

Scotch bonnet pepper(also known as atarodo in Yoruba).

4 big Bell peppers,

1 big Green pepper(optional),

2 balls of Onions (finely chopped or blended)

Vegetable oil(enough to fry with)

2 Knorr Seasonings Cubes 

1 tablespoon crayfish(optional)

1 teaspoon salt.
Before you cook Nigerian tomato stew,
Wash the red plum tomato, scotch bonnet pepper, and red and green bell peppers.
 Peel and dice the onions
Pour tomato, peppers, and onions into a blender, and grind till it's smooth. You can use a little water when blending so that you can achieve a smooth paste.
Cut open the tomato paste and squeeze out the paste into a bowl, then add just a little water and mix till its smooth(this step is optional because I do not use tomato pastes all the time. I use it only when I'm making tomato stew for jollof rice), and set aside.
Boil your preferred choice of meat with onion and seasoning cubes, curry and thyme, and ginger if you wish.
Take out the meat from the pot when its cooked and set aside the meat stock, then fry the meat if you prefer to(frying is optional for me)
METHODS OF COOKING TOMATO STEW
Tomato stew can be made in a variety of ways, depending on preference, and the base meal it will be eaten with. Which could be rice, beans, yam, etc. In this article, however, I will be talking about 2 ways of cooking tomato stew for white rice and boiled yam. These are;
1. Frying method

2. Boiling method
1)  Frying Method.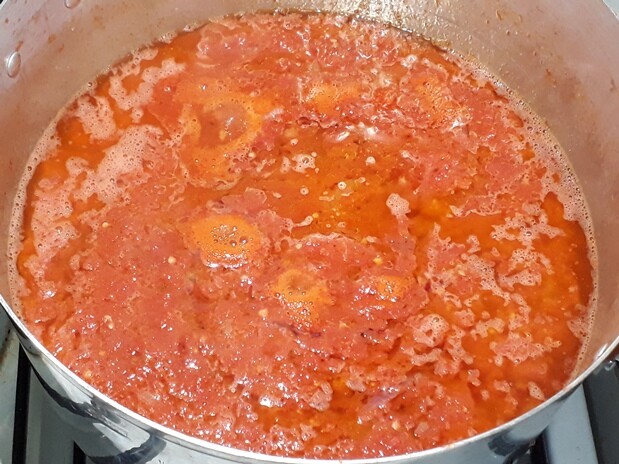 i) Place a dry pot on the fire, then pour in some vegetable oil(You would need at least 100mls or more so that the tomatoes do not get burnt).
ii) Add some chopped onions to the hot oil (This is completely optional because some people do not like to see onions in their stew  so they prefer to blend)
iii) Pour in the tomato paste mentioned earlier and fry for 3 minutes
iv) Pour in the blended tomato, onion, and peppers and cover the pot. Leave it to cook for 15-20 minutes (you need it to cook properly to remove the sour taste from the tomato).
v) Open the pot after 15 minutes to stir the stew. At this point, the vegetable oil should be seen on top of the tomato and should have turned burnt orange in color. 
vi) Pour the meat stock into the pot along with the boiled or fried meat, then add the cubes of knorr seasoning, crayfish, curry, and stir. Then add some salt to taste.
vii) Allow simmering for 5 minutes, then turn off the gas.
2) Boiling Method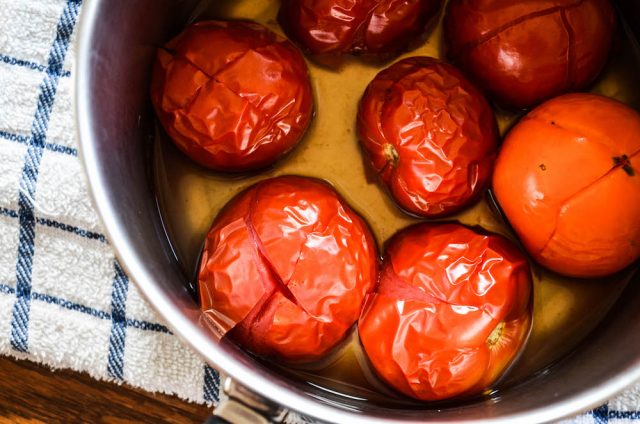 This style of cooking tomato stew can be done in two ways.
Place the pot on fire without adding any water. Only the tomato, pepper, and onion should be in the pot. Cook the tomato until there's little or no water visible in the pot. This should take 15-20 minutes on medium heat. Be sure to check the tomato constantly so it doesn't burn. Once the water in the pot has dried up, scoop out the tomato which should be soft now, pour it into a blender and blend till it's smooth, then fry the mixture using the methods outlined above. OR

After blending the tomatoes, peppers, and onions, pour the mixture into a dried pot and allow it to cook on its own without adding any vegetable oil. All the water in the tomato should dry up within 20-25 minutes then You'll be left with a thick paste in the pot. Then you can pour in your vegetable oil, allow to cook till the oil turns orange as mentioned above, then add all the listed ingredients above.
Serve with white rice or yam